Installation and Integration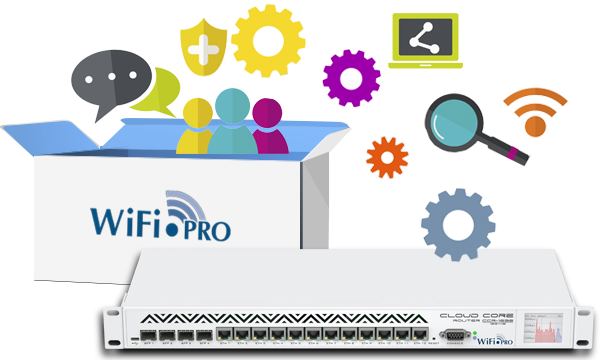 The WiFi.Pro Controller Unit is a Plug & Play device that can be easily installed in any environment,
allowing you to automatically set up a new communication network based in your current infrastructure
or from a new one. It has full compatibility with any existing networking device and access point.
Quick and easy access to a new world of possibilities.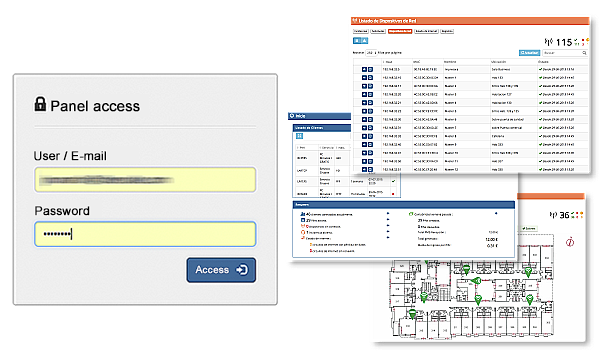 Once the WiFi.Pro platform has been integrated, it can be customized with different access levels, depending on each user privilege and needs.
Any network device can be easily integrated with WiFi.Pro's network.
Our full compatibility with software developers (PMS, POS, CRM, Banca, etc.) allows a direct interaction between their devices and the platform, accessing information and executing all kind of transactions is possible.
Both external systems connectivity (Cloud, payment gateway, communications) and internal (Warning system, interactive screens, etc.) can be managed from the platform.
Network Reports: users and groups connection's details, Access Point status, Internet circuits and any other device within the network, traffic reports, latency, band width, logs, warnings and incidents, etc.
User's Data: social networks accessed, user's device details (smartphone, tablets, laptops, game consoles and any connectable device), operating system, browser, age, genre, socio-economic profile, etc.
Navigation Statistics: visited site ranking, services used, traffic, time zone and many other indicators.
All of the reports include maps, graphics, lists, charts and many other statistical elements that allow users to easily understand all of the available information and the creation of Key Performance Indicators (KPI).
WiFi.Pro offers the possibility to create personalized multi languages captive portals, customized for specific user's profile and its devices.
Simple, friendly and intuitive, you can drag and drop predefine widgets (images, text, forms, banners) and more.
Campaigns are created in a dynamic way considering many important aspects as geolocation, time zones, weather, languages, user's device, audience's segmentation and other settings.
Data Base information allows you to manage a variety of different services like promotions, contests, raffles, loyalty plans and more.