Our Drag & Drop Web Editor allows you to create Homepages or Captive Portal by choosing predefined Widgets that can be customized according to your needs. Personalize your Site based on your Corporative design and get the most from our marketing tools.
  Logo: Displays an image that represents the company or business.
  System: Displays an editable text that represents the system's name.
  Login: Allows to manage different accessing configurations. It can be configured to detect and greet users.  
  Trial: Offers a time limited connection for service demonstration. 
  Text: Displays an editable text. Multiple color and format possibilities. 
  Banner: Displays an image with an embedded web link that allows the user to navigate within the same page.
  Test A/B: Allows the use of 2 different banners. After a lapse of time the most clicked one will be displayed.
  Image: Displays an image. Allows multiple formats and animated GIF. 
  Language: Offers a multiple languages option.
  Welcome: Displays personalized content that has been developed based on pre-programmed parameters and learned preferences.
  Interstitial: Displays a predefined new window image with multiple porpoises.
  Share: Allows users to access social networks.
  Likes: Offers users the possibility to like a predefined Facebook page.
The Welcome Widget allows the creation of communication campaigns based on Programmatic Commerce. Shows personalized content that has been created based on pre-programmed parameters and learned preferences (age, genre, birthdate, specific dates and dates range, visitors and more). Customized it according to smart filters results.
The Interstitial Widget allows an image or video to be shown in full screen mode on the user's screen before he/she starts the login procedure.
Besides other options, it is possible to set up a fixed time for the image to be shown or to allow users to close it at will.
Animated images and videos with embedded web links are allowed.
Social Networking Services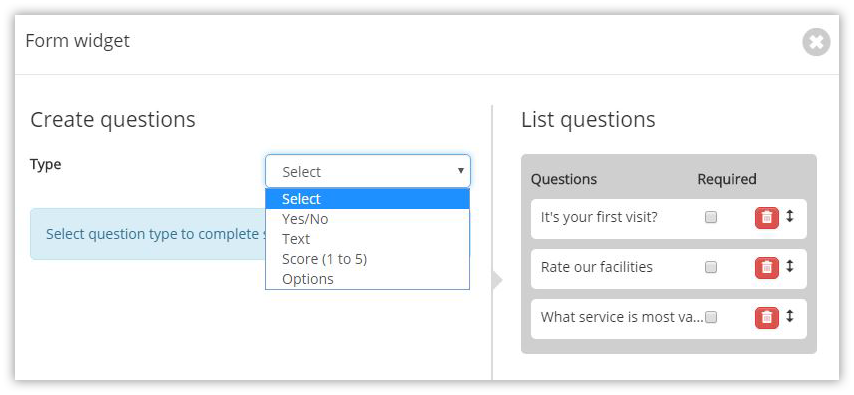 100% customizable forms that allows gathering information regarding clients needs and consumption behavior.
Editable questions with yes or not answering format and simple or multiple selections and rating punctuation system.
The gathered information is saved and later used to create and process reports and statistics.